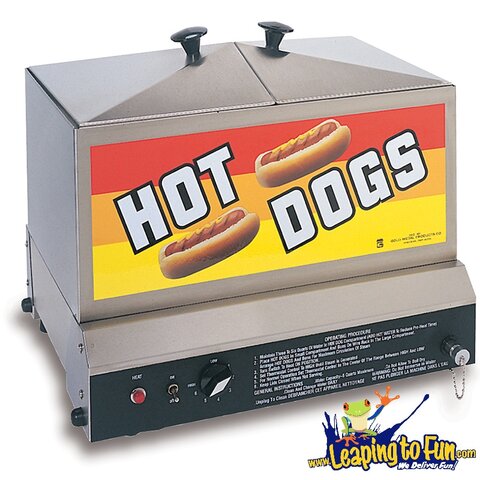 Steamin Hot Dog Machine
Actual Size: 19" x 15-1/2" x 16"




The "Steamin Demon" hot dog machine is truly the world's best hot dog steamer. Cooks up to 85 hot dogs and 35 hotdog buns at the same time! Very simple to operate, fill with water and turn it on, add your hotdogs and hot dog buns and minutes later you are eating.

You'll feel like you stepped into the ballpark with the fabulous smell of steamed franks. This machine will keep your hot dogs and hotdog buns warm and ready the entire party.

Capacity: 85 dogs, 35 buns (not provided by Leaping To Fun )
Hot dog cook time: ~15 min - 1 hour depending on hot dog size and quantity
Power Requirements: Regular House Plug 1000 Watts, 8.3 Amps, 120 Volts
Dimensions: 19" x 15.5" x 16"
Supervisors Needed: 1 Adult

We have a wide variety of Concessions to complement your event in Saint Cloud, Fl and surrounding areas. Leaping To Fun is a party rental company conveniently located in the amazing and beautiful city of Saint Cloud, Fl area which gives us the possibility to serve locations as Winter Garden, as well as Windermere, Orlando Fl, Kissimmee Fl, Lake Nona, Hunter's Creek most Orange County and Osceola County.