Premium Water Slide Rentals in Kissimmee - Leaping to Fun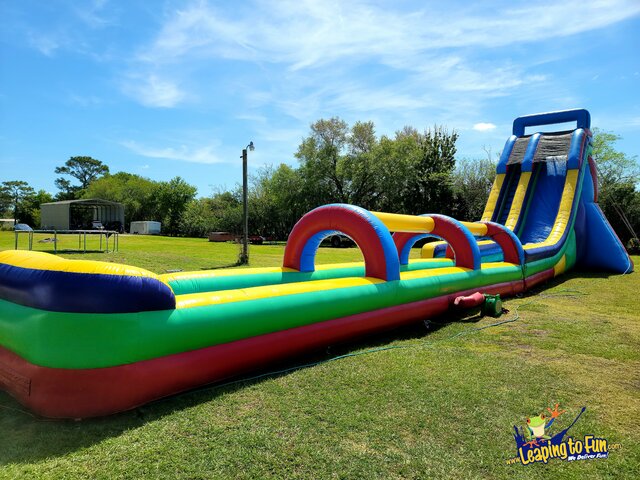 Make a splash at your next event in Kissimmee with Leaping to Fun!
Leaping to Fun is the premier provider of water slide rentals in Kissimmee, FL, bringing endless excitement to neighborhoods such as Formosa Gardens, Windsor Palms, and Paradise Palms. Our top-quality inflatable slides are perfect for transforming any backyard into a thrilling oasis during the hot summer months, ensuring a fantastic time for kids and adults alike.
Imagine hosting the ultimate pool party with an impressive inflatable slide, delighting children as they zip down into the refreshing water. Our water slides are designed for both fun and safety, allowing kids to enjoy their summer days in the sun while staying cool and entertained. Beyond inflatable slides, we also offer moonwalks, bounce houses, and various games, ensuring a wide array of options for your next event.
Conveniently located near Orlando, our water slide rentals are perfect for birthday parties, family gatherings, or just a fun-filled day in the backyard. As the temperature rises, nothing beats the combination of swimming, playing games, and splashing down a water slide to make your pool party an unforgettable experience.
Choose Leaping to Fun for your water slide rentals in Kissimmee, and create lasting memories this summer. Our team is dedicated to providing the best inflatable attractions, outstanding customer service, and a seamless rental process, making us the go-to choice for all your party needs.
Select Your Date
Why Choose Leaping to Fun for Kissimmee Water Slide Rentals
Kissimmee, FL is home to various neighborhoods like Windsor Hills, Emerald Island, Indian Creek, Rolling Hills, and Bellavida, which are known for their vibrant communities and exciting events. Leaping to Fun is proud to be the go-to company for water slide rentals in these areas, providing an unforgettable experience for everyone. Here are the top reasons to choose us for your next event:
Unbeatable Selection of Water Slides
We offer an extensive range of water slides, bounce houses, obstacle courses, and more, catering to all ages and preferences. Our inventory includes everything from toddler-friendly slides to adrenaline-pumping giant water slides, making us the number one choice for parties, celebrations, and gatherings in Kissimmee and Central Florida.
Affordable and Competitive Pricing
We believe that fun should be accessible to everyone, which is why we offer competitive pricing on all our rentals. Our transparent pricing options accommodate various budgets, ensuring you get the best value for your money. Plus, we provide package deals, including chair rentals, tents, tables, and concessions like popcorn machines, for a complete party solution.
Fast and Reliable Delivery and Setup
Our dedicated team takes care of the delivery, setup, and takedown, leaving you with more time to enjoy your event. We serve various locations in and around Kissimmee, including Orlando and other Central Florida cities. Whether your event is at a landmark like Kissimmee Lakefront Park, a school like Osceola High School, or a church like Holy Redeemer Catholic Church, our staff ensures timely and efficient service.
Impeccable Safety and Cleanliness Standards
At Leaping to Fun, we prioritize the safety of our customers. Our equipment is thoroughly inspected and cleaned after each rental, ensuring a safe and hygienic experience for everyone. In addition, our team is knowledgeable about safety guidelines and best practices, so you can rest assured knowing that your event is in good hands.
Exceptional Customer Service and Support
Our commitment to customer satisfaction sets us apart from other party rental companies in the area. From helping you choose the perfect water slide for your child's birthday party at the Celebration area to answering questions about our service and pricing, our friendly team is always ready to assist you. We pride ourselves on our attentive customer service and support, making your party planning experience stress-free and enjoyable.
With Leaping to Fun, you can turn your backyard into the centerpiece of entertainment for kids and adults alike. Whether it's a sunny day in Poinciana or a birthday party at Neptune Middle School, our water slide rentals are guaranteed to make a splash. So why wait? Contact us today and let us help you create unforgettable memories!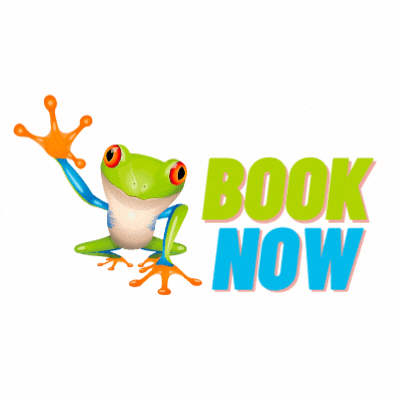 Easy Online 24/7 Booking!
Hey Kissimmee, booking online has never been easier than with Leaping To Fun!

1. Simply click the book now button
2. Choose the date and time of your party, and
3. Select the item/s you need for your party or event
4. Enter your info and pay a small deposit and that's it!

Our easy-to-use system even lets our customers know what items are available in real-time! From renting bounce houses, bounce houses with slide combos, obstacle courses, tents, and chairs to bubble machines....we have it all! Our top-notch staff will deliver on time and make sure your party goes smoothly.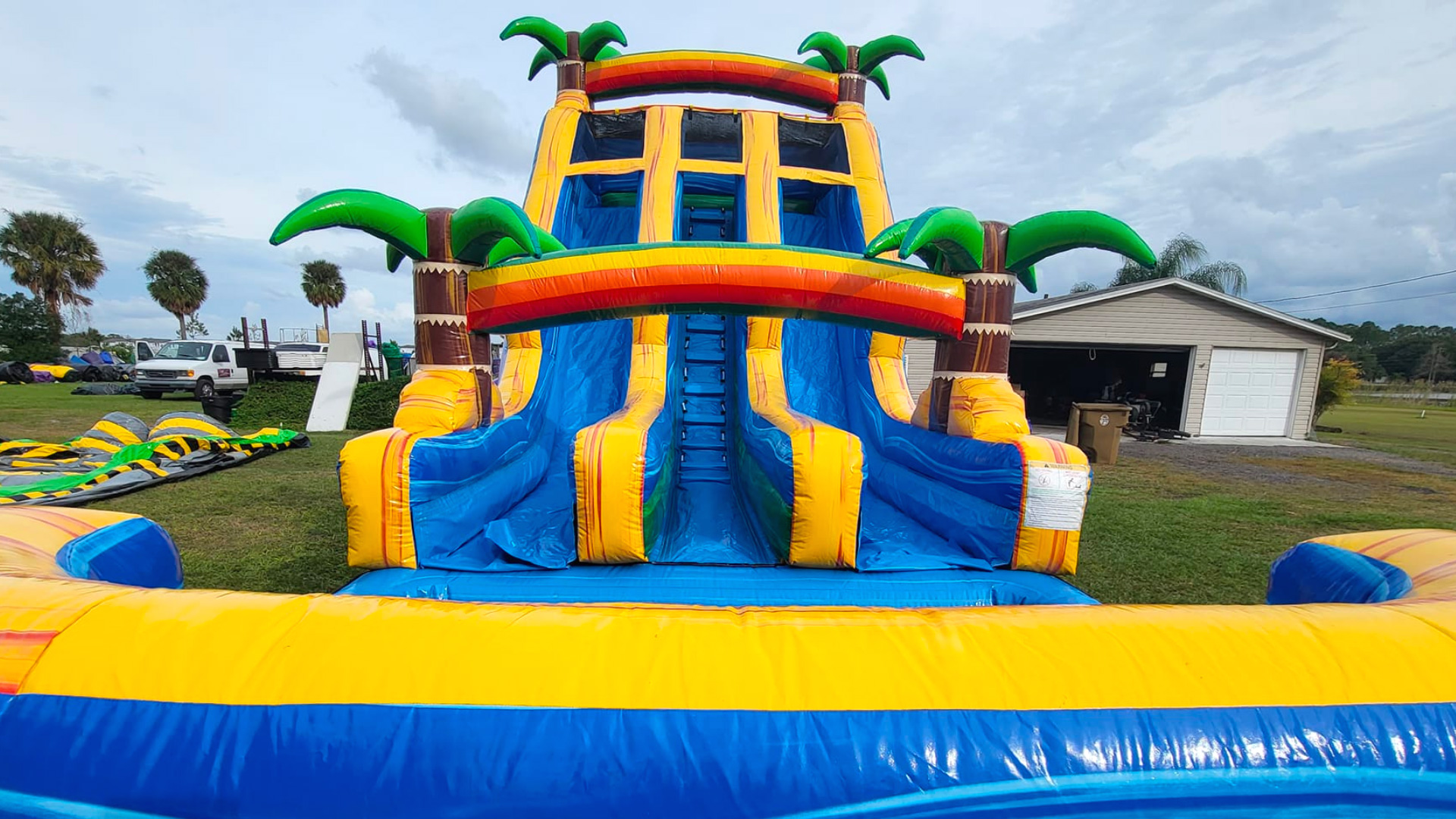 Leaping to Fun is ready to party in Kissimmee. Are you?
In conclusion, Leaping to Fun is the ultimate destination for water slide rentals in Kissimmee, FL, and the surrounding Orlando area. When it comes to hosting an unforgettable pool party or birthday celebration in neighborhoods such as Reunion, Terra Verde, and Storey Lake, our top-quality water slides and exceptional customer service make us the clear choice.
As the sun beats down on the beautiful Florida landscape, there's no better way to keep kids entertained and refreshed than by incorporating a water slide into your event. Our wide selection of slides caters to all ages, ensuring that everyone has a fantastic time. From exciting games to swimming and splashing in the pool, our water slides create an atmosphere of pure fun and enjoyment.
Leaping to Fun takes pride in providing clean, safe, and well-maintained inflatables for all our customers. Our dedicated team works tirelessly to ensure that your rental experience is hassle-free and that your event is a smashing success. We prioritize your satisfaction, delivering and setting up the water slide at your chosen location, allowing you to focus on creating lasting memories with your guests.
Make your next pool party or birthday celebration in Kissimmee a hit by choosing Leaping to Fun for your water slide rental needs. With our extensive inventory, competitive pricing, and commitment to customer satisfaction, we guarantee an unforgettable experience that will have everyone talking for years to come.
Product Link 1
Frequently Asked Questions About Kissimmee Water Slide Rentals
Does the price include set and delivery?
Yes, although additional fees may apply for areas farther out. Remember prices do not include sales tax.
Do you deliver to other cities?
Yes, but once again please be aware that due to rising gas prices and the possible need for an extra truck and labor that travel fees can be quite high. Please call our office for a current quote.
Does the rental time include your set up time?
No. We arrive early to set up so you get the entire rental time to play.
That depends on how many rentals we have that day. Generally we arrive 1-3 hours before the rental time begins. If we have a lot of rentals that day, we may need to set up as early as 4 hours in advance. If this is the case, we will call the Friday before to confirm that someone will be at the party location.
We've rented some really dirty jumps from other companies in the past. Are they always that dirty?
No. The jump should be clean when you get it. Leaping To Fun cleans and disinfects after every rental.