Orlando's Top-Rated Water Slide Rentals: Make a Splash with Leaping to Fun!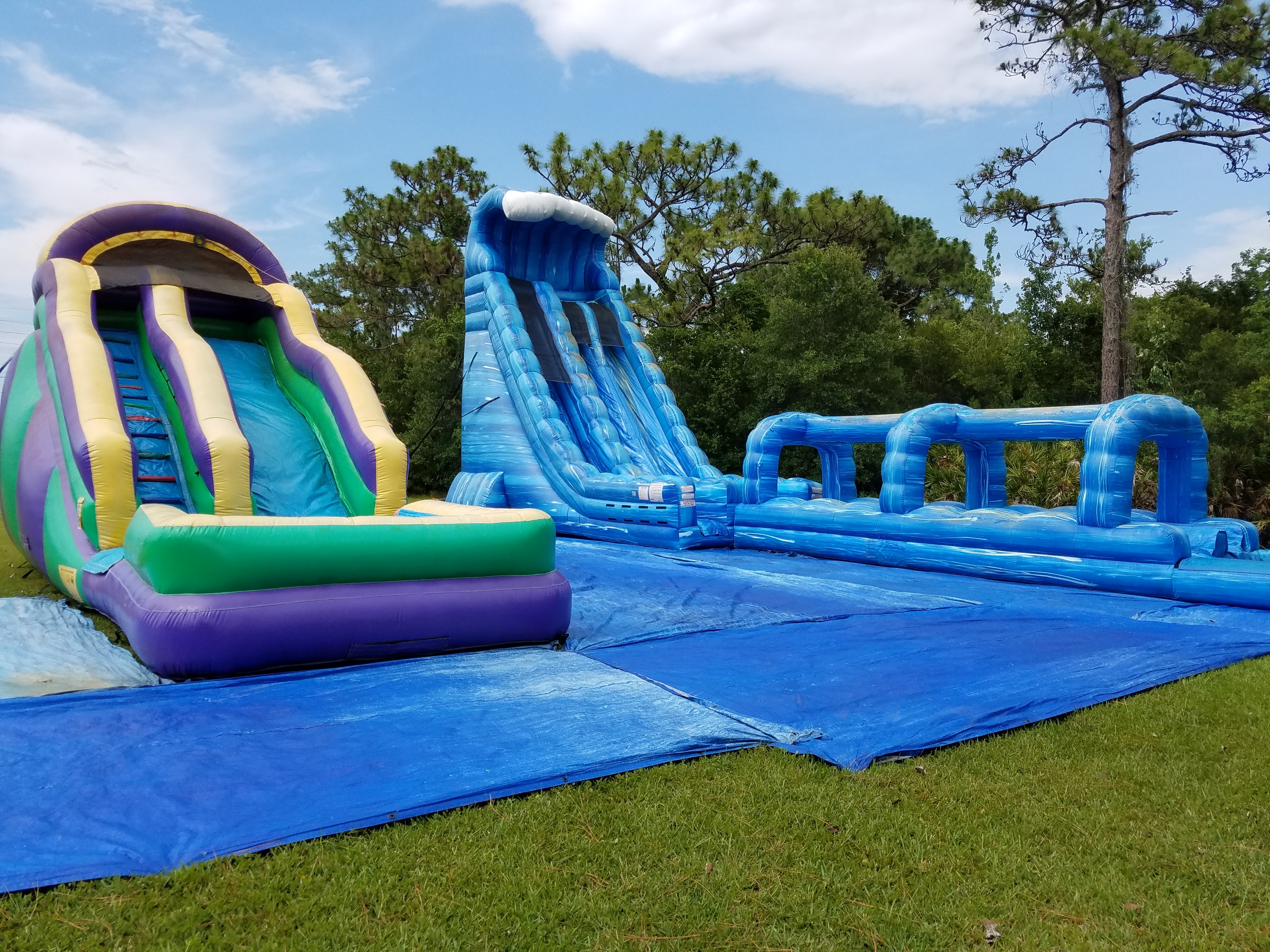 Beat the Orlando Heat with Leaping to Fun's Cool Water Slide Rentals!
Leaping to Fun, the premier water slide rental company in Orlando, offers an exceptional array of exhilarating water slide rentals to make your next event unforgettable. With a wide variety of options catering to all ages and preferences, our inflatable water slides are perfect for birthday parties, family gatherings, corporate events, and even neighborhood celebrations.
Our water slides are designed with safety and fun in mind, made from top-quality, durable materials that meet all safety standards. We ensure our slides are meticulously cleaned and sanitized after each use, guaranteeing a hygienic and enjoyable experience for all users. Our friendly and professional staff will deliver and set up your chosen water slide, allowing you to focus on creating lasting memories with your loved ones.
With competitive pricing and customizable packages, Leaping to Fun is the ultimate choice for water slide rentals in Orlando. Experience the thrill and excitement of our water slides and make your next event a splashing success!
Elevate Your Orlando Event with Leaping to Fun's Exciting Water Slide Rentals!
Welcome to Leaping to Fun, the ultimate destination for water slide rentals in Orlando, FL! We pride ourselves on providing top-notch, fun-filled entertainment for events of all kinds. Whether you're planning a birthday party, a fundraiser, or a community gathering, our extensive selection of inflatables, games, and party rentals will make your event a hit.
At Leaping to Fun, we serve various neighborhoods in Orlando, including Winter Park, College Park, and Baldwin Park as well as Kissimmee and other surrounding areas. Our team is dedicated to delivering exceptional customer service and ensuring that our products meet the highest safety and quality standards. We have built strong relationships with local institutions, such as Lake Silver Elementary School and First Baptist Church of Orlando, to strengthen our community ties and provide entertainment for all ages.
Our vast inventory includes water slides, bounce houses, obstacle courses, and combo bouncers, perfect for both children and adults. We also offer chair rentals, table rentals, tents, and concessions to accommodate the needs of your guests. Our water slide rentals are a popular choice for birthday parties, carnivals, and backyard gatherings, particularly during the hot Florida sun.
When you choose Leaping to Fun, you can expect exceptional customer service, competitive pricing, and a seamless booking experience. Our friendly staff will happily answer any questions you may have and help you find the perfect water slide or bounce house rental to fit your event's theme and crowd. To reserve your rental, simply give us a call, send us a message, or visit our website for more information.
We understand the importance of safety, and that's why all of our inflatables and equipment undergo regular inspections by our trained staff. Our team ensures that our products are in top condition and meet the requirements set by manufacturers and industry regulations.
In addition to serving the Orlando area, we also extend our services to other cities in Central Florida. Our delivery area includes popular locations near Disney, Universal Studios, and various hotels and parks. When you book with us, we take care of the delivery, setup, and teardown, so you can focus on having a great time with your friends and family.
Experience the thrill of our water slide rentals and other party offerings at Leaping to Fun. Whether it's a small gathering or a large event, our commitment to providing the best in entertainment and customer service remains our top priority. Contact us today for a quote and let us make your next Orlando party unforgettable!
The Top 3 Reasons To Choose Leaping To Fun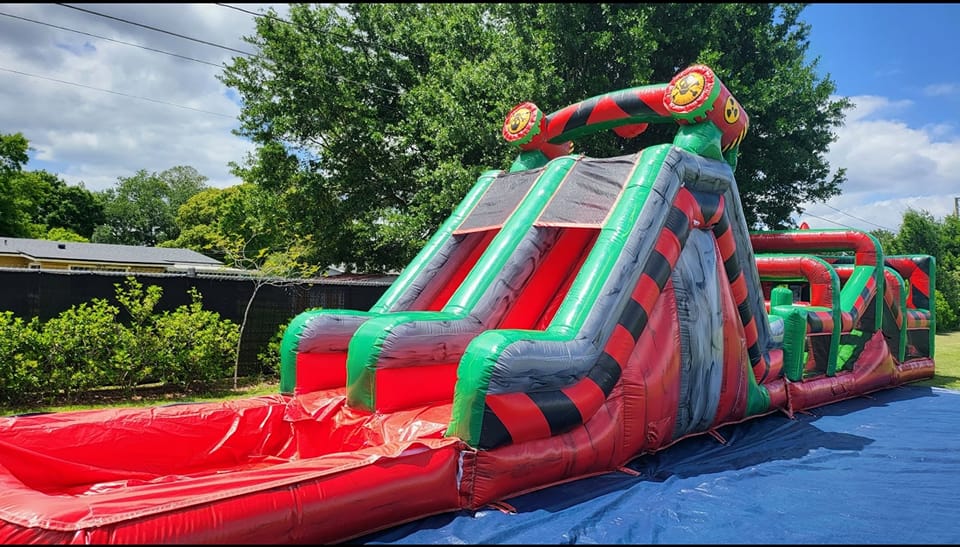 Unrivaled Selection
Leaping to Fun offers an impressive selection of water slides and bounce house rentals to cater to any event in Orlando, Florida. Our inventory includes tall, fast slides with exhilarating drops for thrill-seekers, as well as smaller, more manageable options for younger kids. No matter the size or theme of your party, we have the perfect rental to make your event a success.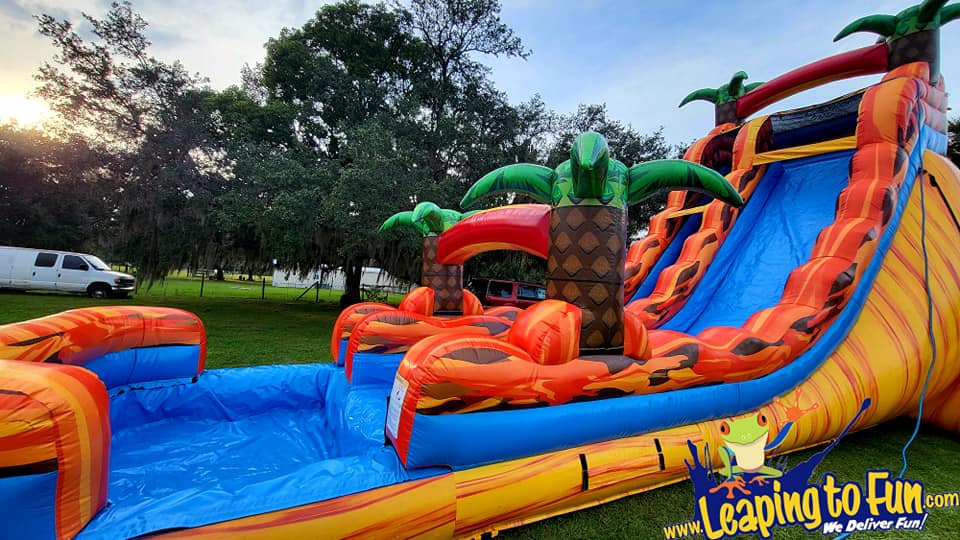 Refreshing Enjoyment
Our water slide rentals provide a cool, refreshing escape from the summer heat. The slippery, wet surfaces make for an exciting ride, as kids and adults alike can glide down the slides and splash into the pool below. The combination of fun, sun, and water ensures that your event will be a memorable experience for everyone involved.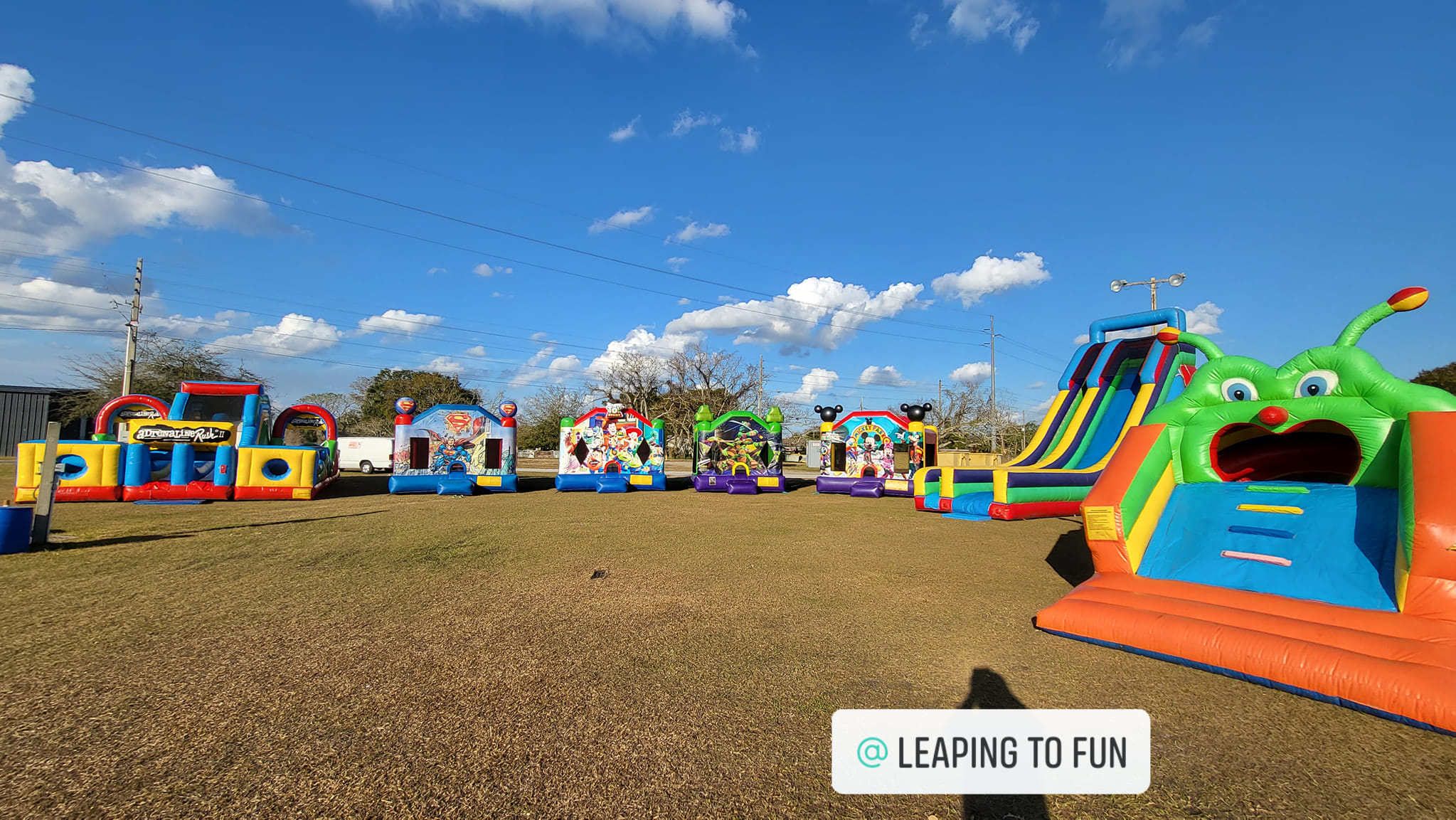 Exceptional Service
At Leaping to Fun, customer satisfaction is our top priority. Our team is dedicated to answering any questions you may have and helping you find the perfect water slide or bounce house rental for your Orlando party. From the initial selection process to the day of the event, you can count on our professional staff to provide exceptional service and support.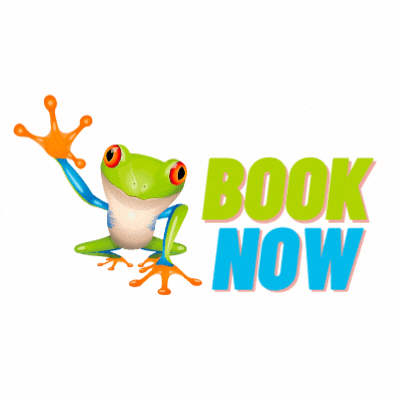 Easy Online 24/7 Booking!
Hey Orlando, booking online has never been easier than with Leaping To Fun!

1. Simply click the book now button
2. Choose the date and time of your party, and
3. Select the item/s you need for your party or event
4. Enter your info and pay a small deposit and that's it!

Our easy-to-use system even lets our customers know what items are available in real-time! From renting bounce houses, bounce houses with slide combos, obstacle courses, tents, and chairs to bubble machines....we have it all! Our top-notch staff will deliver on time and make sure your party goes smoothly.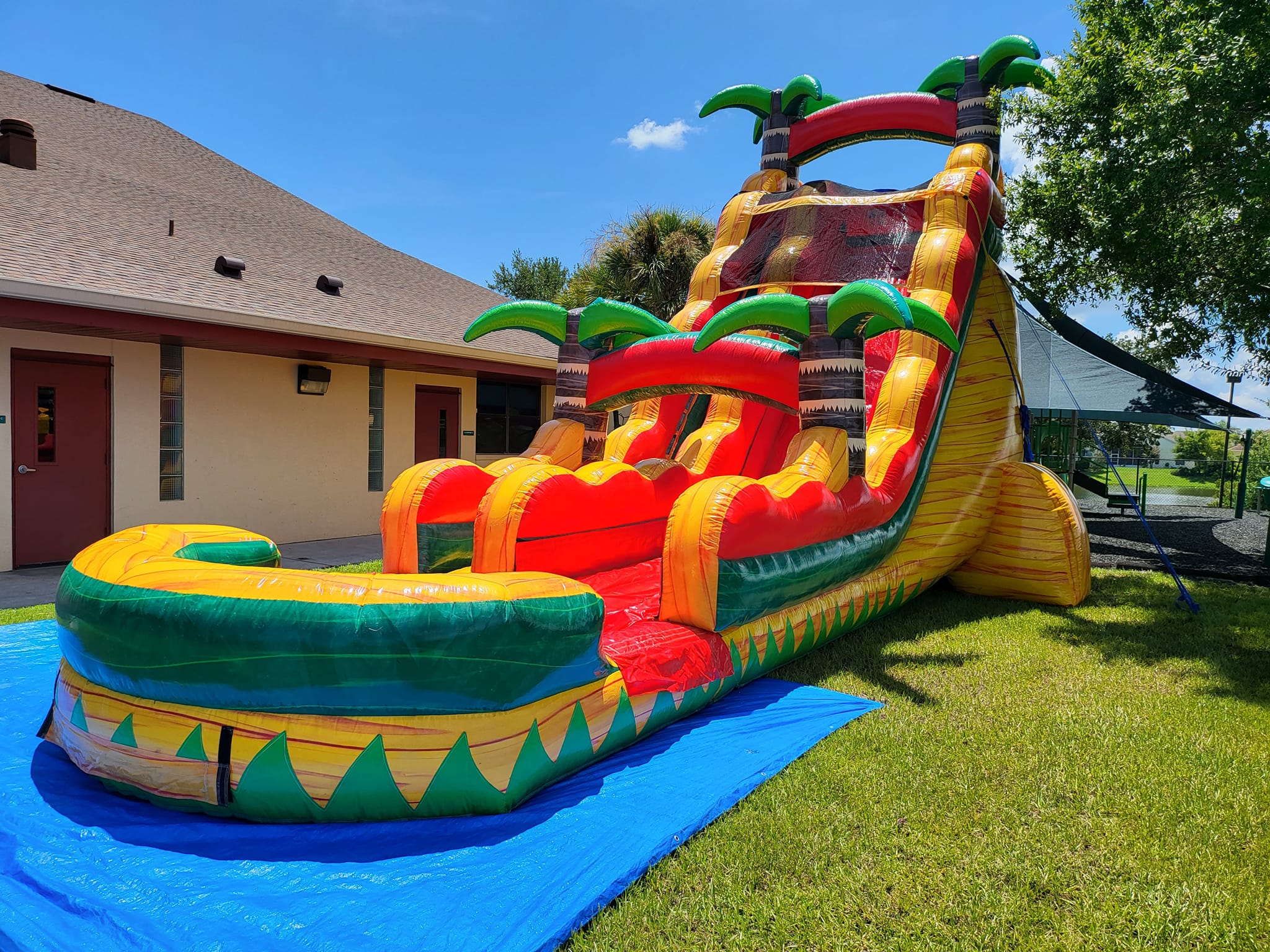 Discover Unforgettable Thrills with Leaping to Fun's Water Slide Rentals in Orlando, FL!
In conclusion, choosing Leaping to Fun for your water slide rentals in Orlando, FL is the ultimate decision to create an unforgettable event. Our bounce house rentals and water slides cater to kids and people of all ages, ensuring a thrilling and refreshing experience for everyone. With a wide variety of types to choose from, we guarantee that there's something for every event.
Our team excels in communication, ensuring that all your questions are answered promptly and professionally. For even more excitement, consider adding a dunk tank to your event, providing an extra splash of fun for all. We take pride in our business and are committed to providing the best possible customer experience.
Imagine the joy of plunging into a pool on a hot summer day, as the sun's rays beat down on the slippery, wet surface of the water slide. The cool, refreshing sensation as you slide down fast, experiencing the excitement of a high, tall drop, all while feeling the thrill and adventure of the ride. At Leaping to Fun, we believe in striking the perfect balance between excitement and safety, ensuring that our guests can enjoy the adventure without the danger.
So, don't wait any longer! Choose Leaping to Fun for your water slide rentals in Orlando, FL, and make your event a splash-tastic success.
Select Your Date
Frequently Asked Questions About Orlando Water Slide Rentals
Does the price include set and delivery?
Yes, although additional fees may apply for areas farther out. Remember prices do not include sales tax.
Do you deliver to other cities?
Yes, but once again please be aware that due to rising gas prices and the possible need for an extra truck and labor that travel fees can be quite high. Please call our office for a current quote.
Does the rental time include your set up time?
No. We arrive early to set up so you get the entire rental time to play.
That depends on how many rentals we have that day. Generally we arrive 1-3 hours before the rental time begins. If we have a lot of rentals that day, we may need to set up as early as 4 hours in advance. If this is the case, we will call the Friday before to confirm that someone will be at the party location.
We've rented some really dirty jumps from other companies in the past. Are they always that dirty?
No. The jump should be clean when you get it. Leaping To Fun cleans and disinfects after every rental.