The Best Obstacle Course Rentals In Poinciana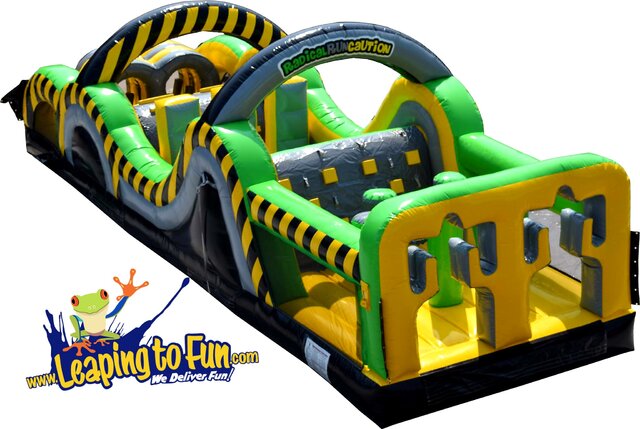 Featured Obstacle Course Rental
35 Toxic Radical Run Obstacle

This 35' course is packed full of challenges on it's own, and is sure to be a hit at your event with both younger and older kids alike! Two participants can go head to head with this super cool inflatable. Before you reach the end of this 35-foot-long course, you must first crawl and make your way past obstacles, squeeze through barriers, dive into a hole, and climb up and over the wall! What a great way to have some high-energy fun at your event.

We have a wide variety of big obstacle bounce house rentals in different shapes and sizes to complement your event in Saint Cloud, Fl. Leaping To Fun is a party rental company conveniently located in the amazing and beautiful city of Saint Cloud, Fl area which gives us the possibility to serve locations as Winter Garden, as well as Windermere, Orlando Fl, Kissimmee Fl, Lake Nona, Hunter's Creek most Orange County and Osceola County.
Book Now
#1 Place For Obstacle Course Rentals in Poinciana FL
These units from Leaping To Fun get their name from being a combination of a moonwalk and other select features or activities like pop-up obstacles, climb & slide, basketball hoops, and toddler-friendly playgrounds. Most can be used wet or dry depending on Florida weather and all the ones with the MOD descriptions can be CUSTOMIZED with any CHARACTER theme. We have a wide variety of characters in different shapes and sizes to complement your event. Leaping To Fun is a party rental company conveniently located in the amazing and beautiful Kissimmee, FL area which gives us the possibility to serve locations such as Celebration, Davenport, Doctor Phillips, Hunters Creek, Kissimmee, Lake Nona, Orlando, Poinciana, Saint Cloud, Windermere, Winter-Garden and surrounding areas.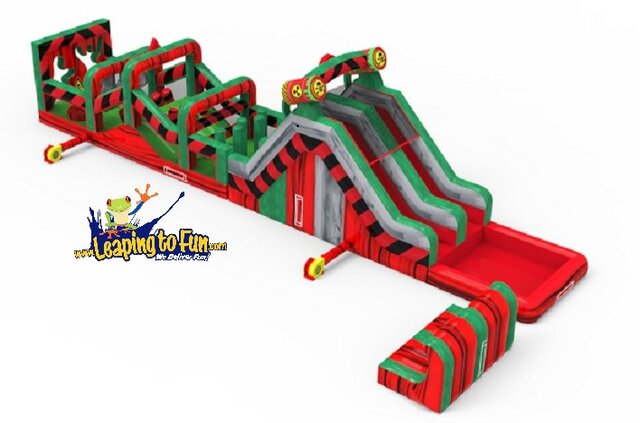 Your One-Stop Shop for Inflatable Obstacle Course Rentals
---
Leaping To Fun Party Rentals offers a great selection of obstacle course rentals in St. Cloud, Fl. Our 65' Red Toxic Challenge Obstacle is built to impress! Its vibrant colors set the mood for a good time! This two-person entrance obstacle course challenge features log jams, obstacle poles, a ladder climb wall, and crawl throughs before you get to a large ladder climb and slide at the end to a big pool or hit the bumper if used dry. Guests can race each other till they drop in this big bounce house obstacle rental for adults and kids.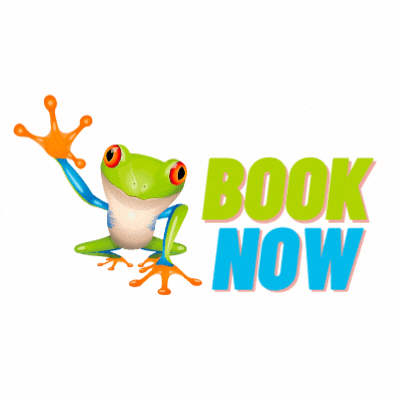 Easy Online 24/7 Booking!
Booking online has never been easier than with Leaping To Fun!

1. Simply click the book now button
2. Choose the date and time of your party, and
3. Select the item/s you need for your party or event
4. Enter your info and pay a small deposit and that's it!

Our easy-to-use system even lets our customers know what items are available in real-time! From renting bounce houses, bounce houses with slide combos, obstacle courses, tents, and chairs to bubble machines....we have it all! Our top-notch staff will deliver on time and make sure your party goes smoothly.
Do We Offer Obstacle Course Rental Delivery In Poinciana?
With Leaping To Fun, the answer is yes! We are happy to deliver all of our inventory throughout Poinciana and the surrounding communities. We offer a broad selection of entertainment and fun foods for any size event that you are planning. From Water Slides to Bounce Houses and Tent Rentals to Interactive Games, we definitely have what you need to create a party or event that will create memories and have your friends raving about your party.

Be sure to check out out Bounce Houses with Slides that can be used wet or dry, our Obstacle Courses to test your skills, our Dry Slides for when you want to have fun but not get wet. We also have GellyBall Parties and Party Entertainment like Photo Booths, clowns and balloon figures. Don't forget to give your guests something to snack on with our Concession Machine Rentals to make treats like popcorn, cotton candy and snow cones. We also offer table and chair rentals to give your guests a place to sit and eat those tasty treats.

With so much to choose from, we can help you plan the perfect party or event.
Our Service Area
Proud to Serve The Following Areas:
If your party or event is beyond that radius, just let us know! We may be able to make special accommodations to suit your event.
NOTE: Fees may vary depending on how far you are outside our service area.
https://www.google.com/maps/embed?pb=!1m18!1m12!1m3!1d112546.7072350589!2d-81.46340645!3d28.17434245!2m3!1f0!2f0!3f0!3m2!1i1024!2i768!4f13.1!3m3!1m2!1s0x88dd98651984833f%3A0xee7f0a752ac9ccc4!2sPoinciana%2C%20FL!5e0!3m2!1sen!2sus!4v1663609950724!5m2!1sen!2sus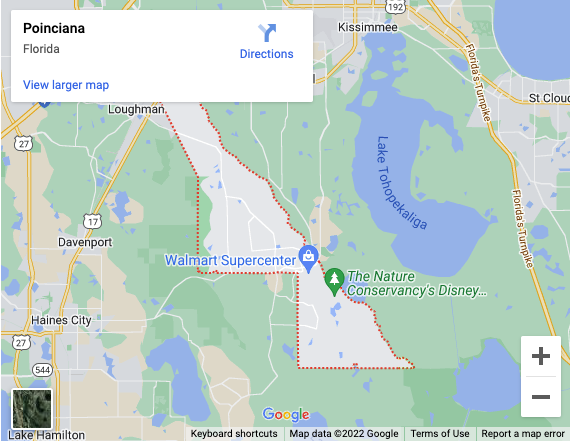 People That Rented for Obstacle Course Rentals Also Shopped For: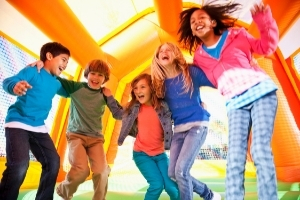 Bounce Houses
You can't go wrong with any of our inflatable bounce house rentals. Whether you're looking to host a backyard party and need a simple colored bounce house or your party needs a large bounce house, we've got you covered.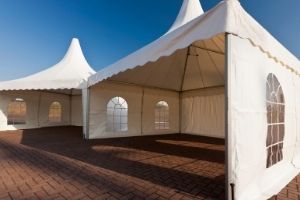 Tents
Having an outdoor party on a sunny day? Tent Rentals are a MUST to protect your guests from painful sunburns and keep them comfortable through your event. Everyone will appreciate the thought of having a place to get out of the weather.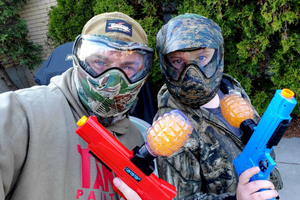 Gelly Ball
Play our popular Gelly ball party. Where teams of players compete head to head to bragging rights to see who is the ultimate gelly ball team! Our gelly balls don't hurt and are safe for even young kids to play and enjoy!
Frequently Asked Questions About Obstacle Course Rentals
Does the price include set and delivery?
Yes, although additional fees may apply for areas farther out. Remember prices do not include sales tax.
Do you deliver to other cities?
Yes, but once again please be aware that due to rising gas prices and the possible need for an extra truck and labor that travel fees can be quite high. Please call our office for a current quote.
Does the rental time include your set up time?
No. We arrive early to set up so you get the entire rental time to play.
That depends on how many rentals we have that day. Generally we arrive 1-3 hours before the rental time begins. If we have a lot of rentals that day, we may need to set up as early as 4 hours in advance. If this is the case, we will call the Friday before to confirm that someone will be at the party location.
We've rented some really dirty jumps from other companies in the past. Are they always that dirty?
No. The jump should be clean when you get it. Leaping To Fun cleans and disinfects after every rental.